Skip to main content
Frequently Asked Questions

Focus Ireland over the last number of years, have organised an annual walking trip along the Camino. With the current travel constraints due to Covid 19, we are uncertain if our trip will go ahead as planned this year, so we have decided to bring people on a Virtual Walk along a section of the Camino.
Each year this fundraising Camino trip raises a large amount for Focus Ireland which goes towards helping thousands of people tackling homelessness in Ireland.
This year we have created a Virtual Camino called Camino De Quarantine!
Get involved and help us support families, children, individuals and young people without a home.
Below are some Frequently Asked Questions on the Camino De Quarantine and the actual Camino De Santiago.
Who is the Camino De Quarantine for?
Our virtual walk, Camino De Quarantine is for anyone interested in ticking the Camino off their bucket list!
Have you always wanted to do the Camino de Santiago trek? Well, this can be a practice walk to help you to understand more about the trek and can be completed on Irish soil before venturing abroad.
Maybe you have done the Camino previously and want to reminise on memories by reading all about the trek, culture and symbols through our guided emails and Camino passport stamps after you complete each location.
Or maybe your just looking for a new challenge!

How long is the walk and how long do I have to complete it?
The Camino De Quarantine is 114km, the exact length from Sarria to Santiago De Compostela. The walk has 5 stages which is to be completed in 5 weeks:
Week 1: 22km from Sarria to Portomarin.
Week 2: 25km from Portomarin to Palais Do Rei
Week 3: 29km Palas Do Rei to Arzua
Week 4: 18km from Arzua to Rua
Week 5: 20km from Rua to Santiago De Compostela
You will be able to link up your fitness app/watch to your fundraising page so you and your supporters can see your progress and the Camino cities you have reached.
Similar to the actual Camino, you will have an online Camino Passport and will receive a stamp when you reach each location. We will even post you out your certificate of completion when you have finished the Camino De Quarantine.
Furthermore, you will receive walking notes for each day describing the route for each stage, along with information about the scenery you would see with other facts about what to expect.

How much do I need to fundraise?
For our virtual walk, Camino De Quarantine, we are asking participants to fundraise a minimum of €250. In joining this campaign, you will receive email updates on your progress and details about the Camino culture, facts about the trek, popular food you can make at home and recommended podcasts/playlists to get you in the Camino spirit!
How long is the full Camino Frances?
The Camino Frances is 780km in full, beginning in St Jean de Pied de Port in France and ending in Santiago de Compostela in Spain. There are many routes you can walk from many countries. For our virtual walk, Camino De Quarantine you will be starting in Sarria, walking the 114km over 5 weeks to reach the beautiful city of Santiago.
Do I need experience to walk this Camino Route?
Thousands of pilgrims of different ages and abilities walk the Camino de Santiago every year. The Camino Frances is quite a gentle walk, with not many inclines or declines. Completely inexperienced hikers are therefore more than capable of undertaking this journey along the Camino de Santiago.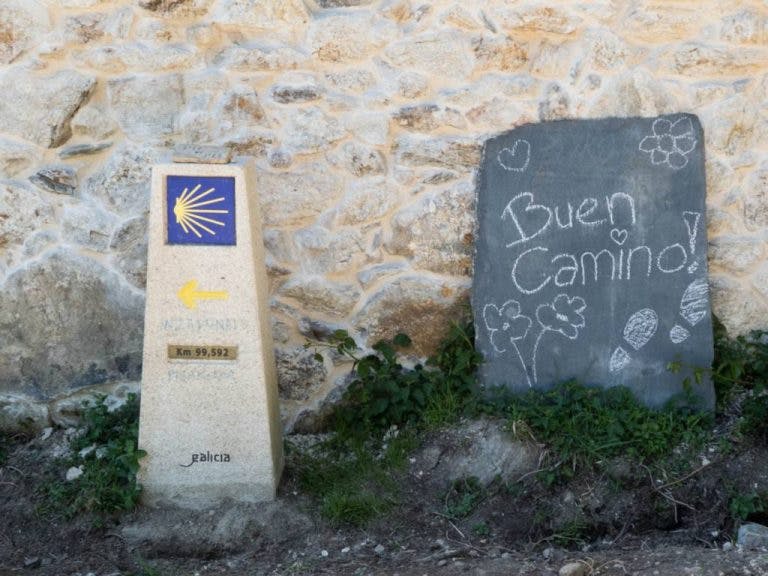 What do I need to pack for the Camino de Santiago?
On the Camino de Santiago trip we recommend to take only what is necessary, things you feel you will definitely need. Lots of clothes are not necessary, as light clothing can be washed at the end of each day and will be dry by morning to be used again.
It can get quite hot along the trek so we recommend walking in runners or boots and socks that your feet are well use to and bring flip flops/sandles for the evenings so to get air at your feet. Bring plenty of feet remedies in case you have difficulties with them. Compeed, plasters and even vaseline - some swear by putting this on your feet each morning before starting to walk.
During our virtual walk, Camino De Quarantine, we recommend you wear comfortable runners and to plan out your route on google maps before you leave. Pack light with lots of water and don't forget your headphones so you can tune into the recommended podcasts/playlists to give you the Camino feel!
How to get into the Camino culture while taking on the Camino De Quarantine?
We will send you updates over the 5 weeks through email to keep the Camino culture alive!
We will send you recipes that are commonly available along the way and recommended podcasts/playlist to listen to along the way.
You will also receive your passport stamps and certificates when you complete your trek.

Why do people walk the Camino?
Those travelling on the Camino for religious reasons are now in the minority, however people walking the Camino are still known as pilgrims, or 'peregrinos' locally. People walk in groups, alone, or with a partner. With so many walking this route, lone walkers are never far from others.
Do I need to speak Spanish?
While Spanish is the first language along the Camino, it is possible to get by using minimal Spanish and some English. In Galicia, there is a dialect called Galician which has some variations on Spanish although they are still quite similar.
Although it is useful to speak and understand some Spanish, it is possible to get by using English as there are so many nationalities that walk the Camino.
All communications for Camino De Quarantine will be in English!
What is a Pilgrim Pasport?
The Pilgrim Passport is a way of identifying you as a pilgrim and can allow you to get cheaper meals, and other things along The Way.
Taking part and walking our Camino De Quarantine, you will still get stamps along the way from us as if you are actually walking the route. Normally you would get a passport in either one of the churches along the way, purchase one from a local shop or your tour operator would provide one to you. Lots of Irish people send away to the Irish Camino Society for one before they head off.
For the Camino De Quarantine, you will receive an online passport once you set up your fundraising page HERE.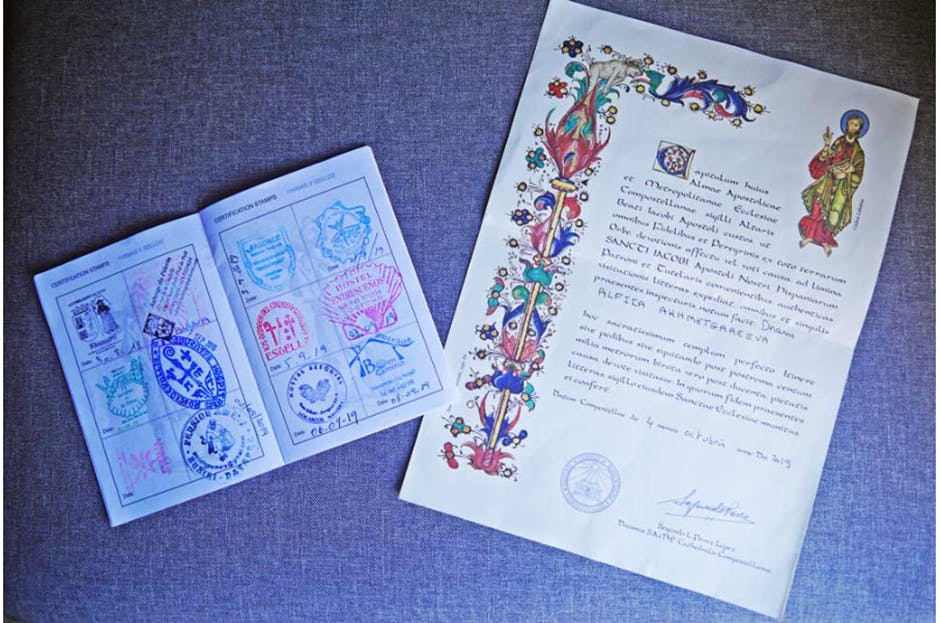 Where can I get my Pilgrim Passport  & Passport stamped?
You can get your Pilgrim Passport stamped along the way in the accommodation that you stay in. Cafés, shops and churches also offer stamps to prove that you have passed through certain towns and villages.
Once the Camino is completed, you would need to show your stamped credencial in Santiago de Compostela in order to achieve your Pilgrim Certificate. On this Virtual Camino de Quarantine, Focus Ireland has a special certificate for everyone who has signed up, fundraised and completed the walk.
Your stamps will be updated on your fundraising page as you update your distance walked.
Where do people stay along The Way?
There is a range of accommodation options located on the Camino Frances pilgrimage route including traditional pilgrim hostels and albergues. As well as rural houses, campsites and hotels. Places to stay range from budget albergues to luxury hotels.
What is the difference between Hostels & Albergues?
Pilgrim hostels, as their name suggests, are hostels that accept only pilgrims. In other words, to be able to stay in one you'll need a Pilgrim's Passport.
Albergues differ in the level of comfort they provide, which means that in some of them you will get only a mattress on the floor and a hot shower, while in others you can get a private room. As for the other amenities such as washing machines or kitchen areas, it's worth noting that you will generally have to wash your clothes by hand and rely on bars serving the Pilgrim menus.
Most pilgrim hostels have an internet connection. Some hostels have fixed opening and closing times, which means that you can even be locked out if you show up later than ten or eleven at night. Another piece of information that can come in handy is that you are only allowed a one-night stay unless there's some kind of medical emergency. Given that pilgrim hostels are the most affordable accommodation, they tend to get crowded and reach their full capacity in peak season, so make sure to come early if you want to find a free bed or mattress. Walkers staying in these accommodations are up and gone first every morning to make sure they get a bed in the next town.
What is the weather like on the Camino?
The weather on the Camino Frances, particularly in Galicia, is typically warm and sunny throughout the summer months and can be very hot. There's also the chance of muggy and rainy weather during these more humid summer months. This is also the most popular and busiest time to walk the Camino.
More and more walkers are opting to undertake their pilgrimage in Spring (April – June) and Autumn (September – October). During these times the weather is not only a very reasonable and pleasant temperature, but the skies are often quite clear with a greatly reduced chance of precipitation or stormy and windy weather coming in off the Atlantic or up from the Mediterranean.
As you complete your Camino De Quarantine on Irish soil, we recommend you check the weather each day as we may not be as lucky as sunny Spain!
What scenery can be expected along the route?
The scenery is very green from the rolling mountains, with deep, green valleys and mist-covered mountains of Galicia, part of Spain's magnificent Celtic region. The woodland is filled with eucalyptus trees and the sound of birds singing along the way.
Rocks can be found embedded into the paths, with some loose chippings helping to make pathways. Some of the national road walking can be on tarmac and in the heat can be felt underfoot. The blue skies with few clouds can provide shade when in the open areas and can help cool feet underfoot.
This is a beautiful part of the world, with so many walking along this route, all respecting the nature and beauty of the surroundings and leaving it as they find it.
We would love to see the scenery along your virtual Camino De Quarantine so be sure to take some photos and to tag Focus Ireland on your social media if uploading your photos – be sure to use our hashtag to see others: #CaminoDeQuarantine.
What are the villages like?
There's no shortage of quaint Spanish towns and villages to delight walkers along the Camino Frances hiking route. Starting off in Sarria you would pass through and spend the night in a number of idyllic locations, such as Sarria, Portomarin, Palas de Rei, Aruza and Rua.
Is there camaraderie, as people say, amongst walkers?
Perhaps it's the shared religious faith, the spiritual feeling or each individual's reason for walking the Camino, but there is something special about the community spirit felt along the journey. Unlike other walks, it's not just your direct hiking companions you'll feel a close connection to.
Such a popular route throughout the warmer months, you'll inevitably cross paths with the same people each day and evening, eventually building up a rapport with them. Sharing stories or tales of the day, with many hikers establishing lifelong friendships with others they've met along the way.
What is the history of Catedral de Santiago de Compostela?
After walking the route, the city and Cathedral of Santiago de Compostela is a sight for sore eyes. You have made it and can celebrate one of the great achievements of a lifetime. Whether it's religion, nature, food, culture or camaraderie that brought you here, all paths lead towards this fabled burial site of St. James and the history in which the region is steeped.
The Catedral de Santiago was first commissioned to be built in the late 11th century and is in Santiago de Compostela, at the end of the Camino de Santiago. Work on it was slowed during the 12th century, before it was finally completed in the early 13th century.
The Catedral de Santiago was consecrated in 1211 in front of Alfonso IX, the king of Léon and Galicia.
Describe the Architecture of the Cathedral?
Obradoiro Façade which they say looks like the work of a goldsmith because of its fine filigree patterns. This is the western façade of the Catedral de Santiago and is the most recognisable and famous façade. It was only built during the 18th century, after the old structure was demolished and then rebuilt. Many important artists of the region contributed to the style of the façade of the Catedral de Santiago.
Platerías Façade is found at the southern end of the Cathedral and remains the only romanesque doorway façade of the Catedral de Santiago. Very little has been done to change the look and style of this, except for several additions. Stories of Jesus are narrated in the artwork on the façade, such as the Crown of Thorns and the Temptation in the Desert.
The Botafumeiro is the giant thurible which hangs in the Cathedral de Santiago and is recognisable to anyone who has seen "The Way". It hangs 20m above the cathedral's floor and requires eight people to operate a pulley system in order for it to swing back and forth. These eight people are known as "Tiraboleiros". As it swings, it dispenses incense throughout the cathedral. "Botafumeiro" literally means "that lets out smoke" in Galician.
The botafumeiro weighs 53kg and can reach great speeds as it swings across the cathedral. The botafumeiro is traditionally used at the end of the eucharist, during the liturgy or during the entrance procession. Walkers/Pilgrims please note this is not done at every mass and you check on arrival into Santiago what mass it will take place at.
Are the remains of St James in the Cathedral?
The remains of Saint James are said to be buried underneath the cathedral. Saint James, an apostle of Jesus Christ, is said to have been the first apostle to be martyred. He was beheaded by Harod in Jerusalem and in the year 43. His body was then transported by boat back to Santiago, where he was buried in a forest. Years later, a farmer came across his remains and the Catedral de Santiago was commissioned to be built. There are many myths and stories about how the body of Saint James was brought back to Santiago.
What is happening with the Restoration of the Cathedral work?
The restoration works inside the Cathedral are expected to be completed on 2020 but that may not be the case due to COVID-19. Once completed, we will be able to see the total restoration of this important work. It will allow us to enjoy one of the best example of religious architecture that we can find in Galicia.
The Cathedral of Santiago de Compostela has been undergoing renovation works since February 2019. The covers of the temple and the transept of the main nave may take up to 6 months more. After a long time, last year we were finally able to see how the restoration of the exterior was completed. The outside has been cleaned and the beautiful stonework is back to its former glory and look.