Skip to main content
Frequently Asked Questions

Focus Ireland over the last number of years, have organised an annual walking trip along the Camino. If you can't make it to the Camino this year, why not join us for the virtual experience instead. Once again this year, we have decided to bring people on a Virtual Walk along a section of the Camino. 
Each year this fundraising Camino trip raises a large amount for Focus Ireland which goes towards helping thousands of people tackling homelessness in Ireland. 
Get involved and help us support families, children, individuals and young people without a home. 
Below are some Frequently Asked Questions on the Virtual Camino and the actual Camino De Santiago. 
General Info
How long is the walk and how long do I have to complete it?
The Virtual Camino is 114km, the exact length from Sarria to Santiago De Compostela. The walk has 5 stages which is to be completed in 5 weeks: 
Week 1: 22km from Sarria to Portomarin. 
Week 2: 25km from Portomarin to Palais Do Rei 
Week 3: 29km Palas Do Rei to Arzua 
Week 4: 18km from Arzua to Rua 
Week 5: 20km from Rua to Santiago De Compostela 
You will be able to link up your fitness app/watch to your fundraising page so you and your supporters can see your progress and the Camino cities you have reached. 
Similar to the actual Camino, you will have an online Camino Passport and will receive a stamp when you reach each location. We will even post you out your certificate of completion when you have finished the Virtual Camino. 
Furthermore, you will receive walking notes for each day describing the route for each stage, along with information about the scenery you would see with other facts about what to expect. 

What do I need to do to take part?
Click Create A Page at the top of the site.
Create your own personal fundraising page via JustGiving.
Fundraise by asking your family, friends and colleagues to support you to complete the challenge.
Track your kilometres by manually entering them into your JustGiving fundraising page, or you can connect your fundraising page to Strava and your KMs will automatically be tracked!
Do I need to pay a registration fee?
No – it is free to take part in Focus Ireland's Virtual Camino. You will just need to Create A Page and raise funds to support people experiencing homelessness.
How do I set up my online fundraising page?
You will automatically receive a fundraising page with JustGiving when you Sign-Up for the event. Your fundraising page link will be e-mailed to you and you can share this online with your friends, family and colleagues so they can donate to you.
Do I need Facebook to set up my Fundraising page?
No - you can setup a fundraising page using your email address instead of a Facebook account.
How do I find the page I created?
You can access your Fundraising page using the Login button at the top of this website.
Your fundraising page link will also be e-mailed to you and you can share this online with your friends, family and colleagues so they can donate to you.
Fundraising
How much do I need to fundraise?
For our virtual walk, the Virtual Camino, we are asking participants to fundraise a minimum of €250. In joining this campaign, you will receive email updates on your progress and details about the Camino culture, facts about the trek, popular food you can make at home and recommended podcasts/playlists to get you in the Camino spirit!
How do my friends, family or colleagues sponsor me?
Your friends, family and colleagues can sponsor you via your JustGiving fundraising page. All funds will be automatically transferred to Focus Ireland if you pay in this way.
Someone wants to sponsor me in cash or cheque – what do I do?
You can choose to pay this in the best way that suits you: 
You can lodge the cash/cheque yourself and pay it via credit card to your online fundraising page. 
You can call 01 8815984 and someone at Focus Ireland can take your donation over the phone. 
You can post the cheque to Focus Ireland's address below. Please make sure you include The Virtual Camino as a reference with your name and e-mail address.
9-12 High St, Christchurch Pl, The Liberties, Dublin 8. D08 E1W0.
You can add this as an offline donation to your fundraising page. To do so, go to your fundraising page and log the offline donation on your page's feed. It will then show up for all your supporters to see.
JustGiving is the online fundraising platform supporting Focus Ireland's Virtual Camino. Using JustGiving is safe and secure and your page will automatically be generated when you Sign-up for the event.
How do I edit my fundraising page?
1.       Login to your Virtual Camino fundraising page
2.       Click View Page
3.        Select Edit Page to enter settings
4.       On the Page tab you can edit: Page Title, Fundraising Target, Profile Picture and Story
5.        Click the Update button to save.
How do I upload a Profile Picture to my fundraising page?
1.       Login to your Virtual Camino fundraising page
2.       Click View Page
3.        Select Edit Page to enter settings
4.       On the Profile Picture section, click Select Image
5.       Select the picture you want to use
6.        Click the Update button to save
How can I ensure I reach my fundraising target?
Here are a few key things you can do to make the most of your fundraising page, including: 
Uploading a photo -This is a great way of personalising your page. You can upload more than one, so why not add photos as way of telling your fundraising story and sharing your progress. 
Setting a target - Doing this is a such a great motivator for yourself. It will also encourage others to help you reach your goal and who knows – you might even beat it! 
Sharing your story - Tell your supporters why you are taking part and what a difference their donations will make.
Promoting your page -Email a page link to your friends/family and if you're online, share it on social media. This is such a great way to raise awareness of your challenge and kick start your fundraising. 
Keeping everyone updated - Try to share regular updates and progress pics on your page. Your supporters will enjoy sharing your journey with you and want to know how you're getting on. 
Can I share my fundraising page and photos on social media?
Absolutely! The easiest way is to use the social media share icons located on your fundraising page.
Below are some top tips to help you with your fundraising efforts: 
Donate to your own page: On average, a Fundraising page raises 40% more when the fundraiser makes that first donation. 
Personalise your Fundraising page: Edit the wording on your page so it's not the default story and put an image of yourself up so people know who they are donating to. Introduce yourself and say why you are fundraising for Focus Ireland. 
Share on your social: Share your Fundraising page on Facebook asking people to support you. Put it in your bio on Instagram and ask people on your story to go to your bio to donate. Copy your page URL and paste it into a post on Twitter. Share it on LinkedIn. 
Direct message: Copy and paste your fundraising page into the family Whatsapp group, message friends on Facebook and email colleagues in work looking for their support. You can also send the link in snapchat! 
Get a sponsorship card: Please email ruth.oneill@focusireland.ie if you would like a physical sponsorship card. 
Team Fundraising
Can I take part as a member of a Team, Group or Class?
Yes, absolutely! Once you have signed up and created your personal JustGiving page, you can then create a JustGiving team page too. When your friends, family, students or class mates sign up to take part, they can join your team.
How do I setup a fundraising team?
1.       Login to your Virtual Camino fundraising page
2.       Click View Page
3.        Select Edit Page to enter settings
4.       On the Team tab – select Create A Team*
5.       Enter your team details & click Create Team.
Your team is now setup and other members can join
*The team page should be named after your team/class/business
How do I join a fundraising team?
1.       Login to your Virtual Camino fundraising page
2.       Click View Page
3.       Select Edit Page to enter settings
4.       On the Team tab – select Join A Team
5.       Type the team name you wish to join and click Join Team
Distance Tracking
Can I track my walks on my fundraising page using a fitness tracker?
Yes, you can track your distance and link it to your JustGiving page via the Strava app. This will ensure your mileage is automatically recorded and added to your page. If you are unable to link to this app (or forget to track your activity) you can manually add the mileage to your page later.
What is the best way to track fitness activities & miles on my Fundraising page?
You can use Strava to automatically log fitness activites. There are lots of popular fitness apps and services (including FitBit) that you can use to connect to a Strava account.
After you create your fundraising page, you can link your page to your Strava account to automatically log the miles by selecting: Edit Page > Fitness. You can follow this handy guide to link another fitness tracking device to Strava.
If you don't use fitness devices and apps, you can log your fitness activities manually on your fundraising page.
How many KMs do I need to walk?
The full Camino distance is 114km but you do not need to walk it in one go. When you walk 2km, 6km, etc. your fundraising page will calculate this and give you your stamps based on which town you have reached
How do I know how many km's are needed for each town?
Help & Support
How do I get help with my JustGiving fundraising page?
If you need help using your fundraising page, making a donation, or anything else JustGiving related, their dedicated support team can help you out.
You can message JustGiving Customer Support via email help@justgiving.com
Help! I have a question that isn't answered in these FAQs
Don't worry! We'll keep adding FAQs to this list, but if you have a question that isn't answered here please just email us at events@focusireland.ie and we'll be happy to help!
My fundraising page is showing an error message, what should I do?
Please contact JustGiving Customer Support via email help@justgiving.com. Include a description of the error you are seeing or a screenshot if possible.
Learning
Who is the Camino De Quarantine for?
The Virtual Camino is for anyone interested in ticking the Camino off their bucket list! 
Have you always wanted to do the Camino de Santiago trek? Well, this can be a practice walk to help you to understand more about the trek and can be completed on Irish soil before venturing abroad. 
Maybe you have done the Camino previously and want to reminisce on memories by reading all about the trek, culture and symbols through our guided emails and Camino passport stamps after you complete each location. 
Or maybe you're just looking for a new challenge! 

Do I need experience to walk this Camino Route?
Thousands of pilgrims of different ages and abilities walk the Camino de Santiago every year. The Camino Frances is quite a gentle walk, with not many inclines or declines. Completely inexperienced hikers are therefore more than capable of undertaking this journey along the Camino de Santiago.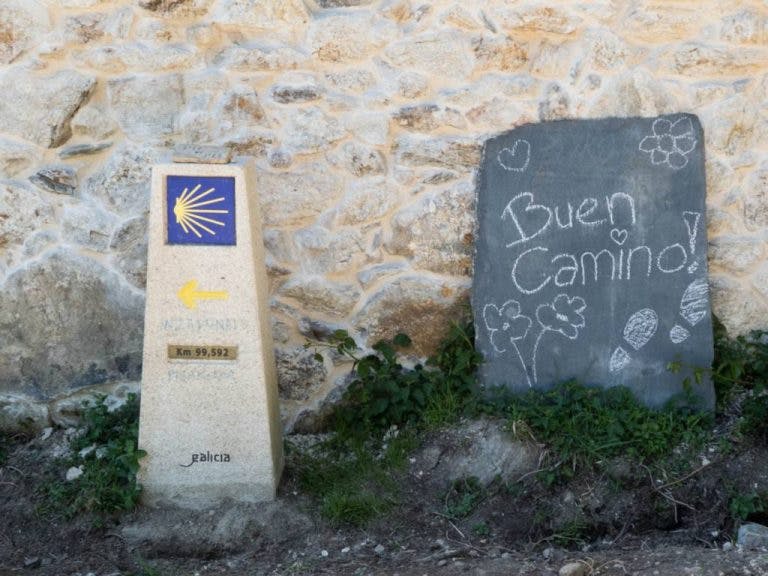 How to get into the Camino culture while taking on the Virtual Camino?
We will send you updates over the 5 weeks through email to keep the Camino culture alive! 
We will send you recipes that are commonly available along the way and recommended podcasts/playlist to listen to along the way. 
You will also receive your passport stamps and certificates when you complete your trek.

What is a Pilgrim Passport?
The Pilgrim Passport is a way of identifying you as a pilgrim and can allow you to get cheaper meals, and other things along The Way. 
Taking part and walking our Virtual Camino, you will still get stamps along the way from us as if you are actually walking the route. Normally you would get a passport in either one of the churches along the way, purchase one from a local shop or your tour operator would provide one to you. Lots of Irish people send away to the Irish Camino Society for one before they head off. 
For the Virtual Camino, you will receive an online passport once you set up your fundraising page HERE.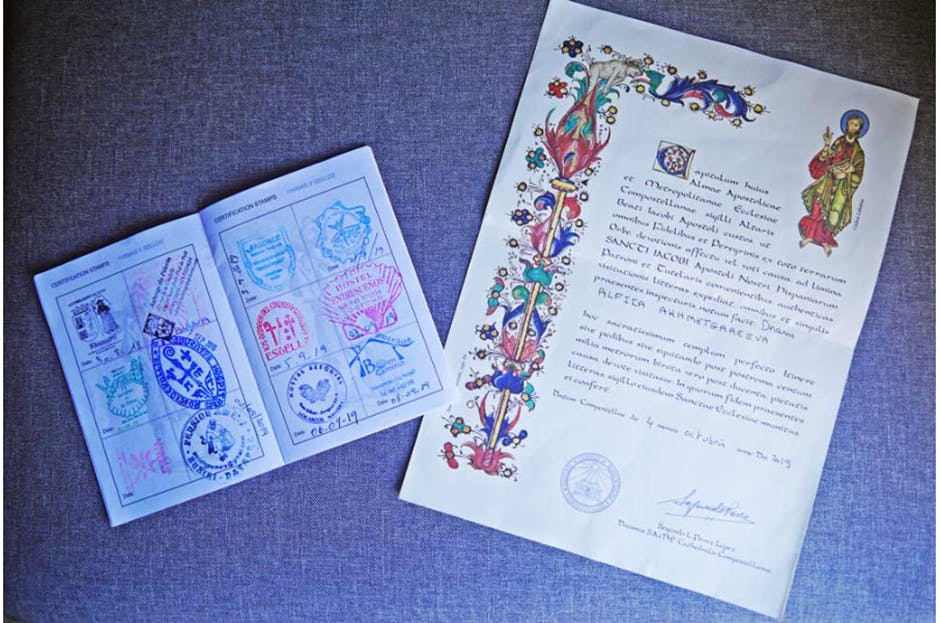 What scenery can be expected along the route?
The scenery is very green from the rolling mountains, with deep, green valleys and mist-covered mountains of Galicia, part of Spain's magnificent Celtic region. The woodland is filled with eucalyptus trees and the sound of birds singing along the way. 
Rocks can be found embedded into the paths, with some loose chippings helping to make pathways. Some of the national road walking can be on tarmac and in the heat can be felt underfoot. The blue skies with few clouds can provide shade when in the open areas and can help cool feet underfoot. 
This is a beautiful part of the world, with so many walking along this route, all respecting the nature and beauty of the surroundings and leaving it as they find it. 
We would love to see the scenery along your Virtual Camino so be sure to take some photos and to tag Focus Ireland on your social media if uploading your photos – be sure to use our hashtag to see others: #Virtual Camino.
Describe the Architecture of the Cathedral?
Obradoiro Façade which they say looks like the work of a goldsmith because of its fine filigree patterns. This is the western façade of the Catedral de Santiago and is the most recognisable and famous façade. It was only built during the 18th century, after the old structure was demolished and then rebuilt. Many important artists of the region contributed to the style of the façade of the Catedral de Santiago.
Platerías Façade is found at the southern end of the Cathedral and remains the only romanesque doorway façade of the Catedral de Santiago. Very little has been done to change the look and style of this, except for several additions. Stories of Jesus are narrated in the artwork on the façade, such as the Crown of Thorns and the Temptation in the Desert.
What is the history of Catedral de Santiago de Compostela?
After walking the route, the city and Cathedral of Santiago de Compostela is a sight for sore eyes. You have made it and can celebrate one of the great achievements of a lifetime. Whether it's religion, nature, food, culture or camaraderie that brought you here, all paths lead towards this fabled burial site of St. James and the history in which the region is steeped.
The Catedral de Santiago was first commissioned to be built in the late 11th century and is in Santiago de Compostela, at the end of the Camino de Santiago. Work on it was slowed during the 12th century, before it was finally completed in the early 13th century.
The Catedral de Santiago was consecrated in 1211 in front of Alfonso IX, the king of Léon and Galicia.
How long is the full Camino Frances?
The Camino Frances is 780km in full, beginning in St Jean de Pied de Port in France and ending in Santiago de Compostela in Spain. There are many routes you can walk from many countries. For our Virtual Camino. you will be starting in Sarria, walking the 114km over 5 weeks to reach the beautiful city of Santiago.
Where can I find the learnings on the Camino?
You can find learnings on Camino symbols, phrases, recipes, recommended books, podcasts and playlists here. You will also find walking notes and information about each town to download.